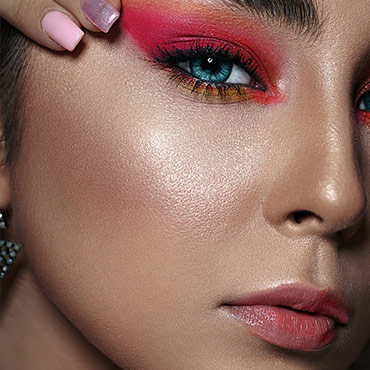 Created Date: 18 Jun
IN THE NUDE
Step 1: Accentuate the eyes
Create a beautifully subtle look that exaggerates the eyes using a combination of matte and shimmer shades from the Flair Eyeshadow Palette. Start by applying a neutral matte peach base over the entire eyelid, right up to the eyebrow.
Next use an angled brush such as our Angled eye definer brush #09 to apply a slightly darker matte shade along the lash line, extending it slightly past the corner of the eye to create a cat's eye effect.
Finish the nude eyeshadow look with a light pressing of metallic gold across the lid to really make the eyes pop.
The Flair Palette is perfect for this nude look with its selection of highly pigmented taupe and brown tones.
Step 2: Prep the skin
Massage a few drops of SENSE 5 Silky nourishing facial oil all over the face to ensure a plump, soft base for makeup application.
Sense 5 is infused with 5 powerful natural-origin actives to provide intensive nourishing benefits, creating a silky smooth foundation for our next step.
Step 3: Flawless matte base
Ensure your skin is looking filter-like flawless all day with a layer of Longevity Full Coverage 24H foundation.
Apply an even layer of this matte, full coverage, second-skin feel foundation using a sponge brush or your fingers.